Quick News and Horses Currently Offered For Sale
BELCAM
Warmblood Stud &
Equestrian Centre
188 Armstrong Rd
Biddaddaba 4275
Queensland
Australia
Phone
+61(0)7 5543 0125
Mobile
Ulrich Klatte
0408 453 804
E-mail

Belcam Stallions
Service Fee Special
Pay just $500 for a single serve of semen from Agassi or Cooperit until these stallions are sold !
Chilled or Inseminated
Free Delivery Tuesday to Friday.
Phone Or For This Great Deal !!
Agassi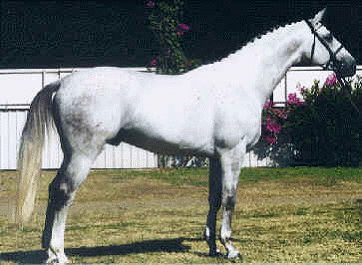 Belcam Agassi

grey 16.3hh

dob 13/1/96
Argentinus (Han)
Argentan (Han)
Absatz (Han)
Abglanz (Trak)
Landmoor (Han)
Worms (Han)
Wohlan (Han)
Landschaft (Han)
Dorle (Han)
Duden II (Han)
Duellant (Han)
Loewenart (Han)
Winterrose (Han)
Wirbel II (Han)
Freiheitsgl (Han)
Benaloo Rose (xx)
Silveneer (xx)
Souvenir (xx)
Request (xx)
Nina (xx)
Calypso Maid (xx)
WestIndies (xx)
Nefertiti (oo)
White Silver (xx)
Stirling Silver (xx)
One Pound Sterling UK (xx)
Spry Girl NZ (xx)
White Thunder (xx)
The Boom (xx)
White Crest (xx)
By imported frozen semen from the legendary Hanoverian sire Argentinus, combined with the famous jumping line of Silveneer, Agassi stands at 16.3hh. Agassi was syndicated for the highest sum in this country yet. His second crop of foals are again absolute superior quality, showing size and conformation of the finest degree.
His first progeny offered for sale under saddle, fetched an average of over $16,000 at the 2002 Belcam Auction. They all appear to inherit an amazing talent for jumping, along with excellent type and temperament. Two of these progeny to make it out to the shows for light competition this season were Belcam Armada and Belcam Advisor (now owned by Kristy Bruhn, SA). Both young horses showcased their amazing athletic jumping ability and fantastic attitudes.
Belcam Agassi himself has been competing lightly on the Qld jumping circuit and is now C Grade.
Cooperit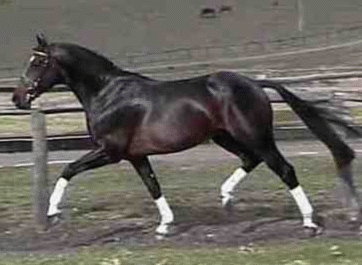 Cooperit(Imp)

brown 16.1 1/2hh

dob 20/5/96
Contender (Hol)
Calypso II (Hol)
Cor De La Bryere (Hol)
Rantzau (xx)
Quenotte (SF)
Tabelle (Hol)
Heissporn (Hol)
Hyazinthe (Hol)
Gofine (Hol)
Ramiro (Hol)
Raimond (Hol)
Valine Z (Hol)
Cita (Hol)
Ladykiller (xx)
Romina (Hol)
Winett (Han)
Wanderer (Han)
Wagner (Han)
Wenderkreis (Han)
Granada (Han)
Genua (Han)
Glander (Han)
Alina (Han)
Paola (Han)
Pik Koenig (Han)
Pik As (xx)
Anina (Han)
Elblady (Han)
Eindruck II (Han)
Weilergrefin (Han)
Christine Doan was quoted as saying : "This is the best dressage stallion imported into Australia."
Cooperit is the only Contender son in Australia. As Contender semen is unavailable, Cooperit is Australia's only direct link to Holstein's #1 Stallion, which combines the three most famous sires - CALYPSO, RAMIRO & LADYKILLER XX. Contender's progeny include now current 39 selected stallions. A large number of his progeny compete up to International Level in both Showjumping & Dressage. Contender progeny are famous for their ridability and willingness to work. This is not surprising as Contender himself won his performance test with a very high index of 139.41. His jumping index was 148.62 and dressage 118.91. On Cooperit's dam's side, Wanderer and Pik Koenig are influential performance sires from the Hanoverian breeding area.
Cooperit's first crop of foals were nothing short of magnificent. Elegant and beautiful, with incredibly active movements. Those presented for assessment on the ACE Tour 2003 scored extremely well, with many scoring 8.5's for movement. These were from a very wide range of mares which proves Cooperit to be a very influential sire.
World Royal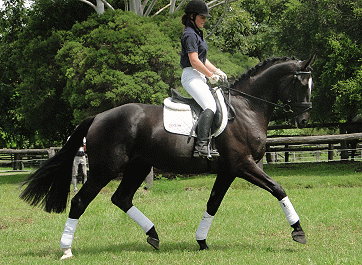 World Royal (Imp Old)

black stallion 17hd

dob 23/03/07
World of Dreams
World Cup I
Woermann
Woehler
Mandat
Sendernixe
Sender
Luenenixe
Carola
Cardinal (xx)
Off Key (xx)
Chevalier's Star (xx)
Sitka
Sesam
Stutbuch
Ruling Royal
Rubin Royal
Rohdiamant
Rubinstein I
Elektia V
Runirell
Grundstein II
Ruling Action
Rubin-Aktuella
Aktuel
Absatz
Violine
Ruling Chica
Volturno
Rudilore II
World Royal combines the bloodlines of famous Dressage Sires such as World Cup, Cardinal xx, Rubin-Royal, Rohdiamant, Grundstein II, Aktuell, Absatz and Volturno. His Father World of Dreams at a proud age of 17 cleaned up on the European and German Dressage Championships by winning them all and taking home all the Gold.
His mother is the State premium mare Ruling-Royal by the spectacular Rubin-Royal, who comes from the famous Rudilore line and is the oldest of five licensed full brothers and has sired nearly 20 licensed sons. Rubin Royal, from Harli Seiferts own breeding, is a great example of a multi-talented stallion. In 2001 Rubin Royal was introduced into the dressage competition sport and was quickly qualified for the Bundeschampionat for dressage horses. Since then, in partnership with Dieter Weichert, he has won Prix St. George, Intermediare 1 and has qualified for the Nürnberger Burgpokal finals.
Under saddle World Royal surpasses easily our expectations, showcasing his talent at the Sydney CDI*** in October 2013. As World Royal has been sold back to Germany he will no longer be standing at Belcam Stud.
Now On Top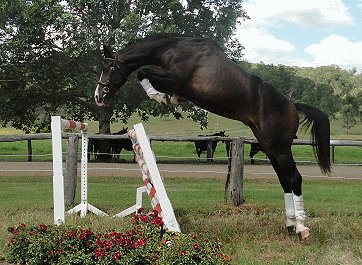 Now On Top (Imp Han)

brown stallion 16.1hd

dob 22/04/07
Now Or Never
Voltaire
Furioso II
Furioso (xx)
Dame de Ranville
Gogo Moeve
Gotthard
Mosaik
Imke
Nimmerdor
Farn
Ramonaa
Brunhilde
Maykel
Sieghilde
Control The Top
Contendro I
Contender
Calypso II
Gofine
Bravo
Reichsgraf
Ofarim
Call Her Top
Calido
Cantus
Baroness
Walk On Top
Westgote
Laila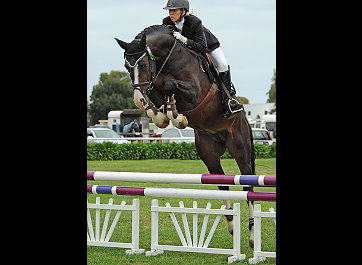 Now On Top is sired by the great Jumping horse Now or Never, the former champion of the Dutch show stallion who has by now founded his own stallion line and is currently standing at the Celle National State Stud in Germany.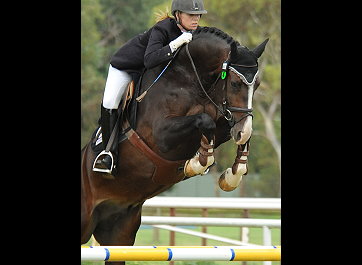 It is now the third year that Now or Never ranks among the top five on the German Breed Value Estimation.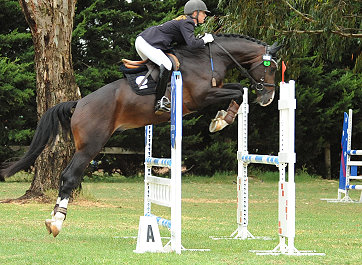 He produces correct and strong models, who move correctly and engaged, which has resulted in a high percentage of state premiums.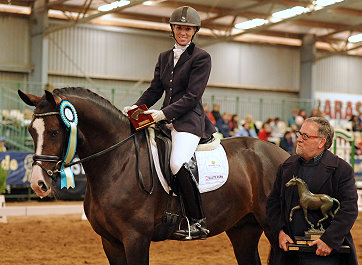 Now or Never is from the exceptional bloodlines of Voltaire (jumping index 152 / dressage index 130), Nimmerdor (jumping index 156) and Maykel. Maykel is the sire of the international show jumper Cavalier.
Now on Top's mother is a cross of two other famous Jumping sires Contendro and Calido and the Grandmother Walk on Top was a Serial winner in Grand Prix Jumping Events. Breeding and his own Jump; both of highest standard!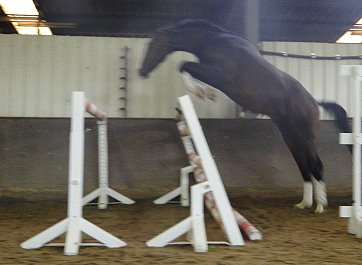 Service Fees - Australian Stallions
| | | |
| --- | --- | --- |
| Belcam Agassi | Australian Warmblood | $500+GST per insemination or $1800+GST service fee |
| Cooperit | Imported Hanoverian | $500+GST per insemination or $1800+GST service fee |
| World Royal | Imported Oldenburg | No longer standing |
| Now On Top | Imported Hanoverian | $1800+GST service fee |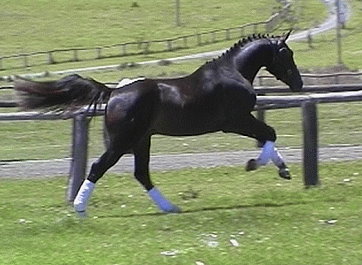 Today is : September 23, 2021
Page last updated : November 17, 2013
Top of

page
Copyright | Disclaimer | Privacy
Copyright © belcam.com.au 2009