Quick News and Horses Currently Offered For Sale
BELCAM
Warmblood Stud &
Equestrian Centre
188 Armstrong Rd
Biddaddaba 4275
Queensland
Australia
Phone
+61(0)7 5543 0125
Mobile
Ulrich Klatte
0408 453 804
E-mail

Latest News
November 2013 - World Royal, goodbye and good luck!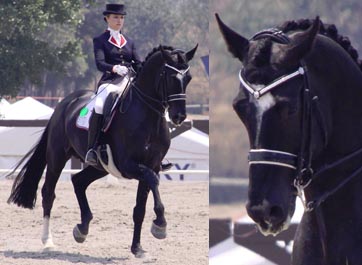 It's mixed emotions at Belcam as we confirm the sale of our imported black beauty World Royal. The 6 year old stallion will be making his way back home to Germany to continue his dressage career with sights set on Rio.
After being imported to Australia, where he was broken in and trained to medium/advanced level here at Belcam, this young superstar came into partnership with Daniella Dierks of C&J Dierks Advanced Dressage Training Centre in Sydney. The pair have competed with great success and earned a lot of attention from international buyers.
World Royal gave an absolutely spectacular performance at the Saddleworld Australian Dressage Championships this October where he, together with his rider Daniella Dierks, dominated the competition taking Medium Champion, Advanced Champion, Advanced Freestyle Champion and taking the Dietmar Specht Trophy. This undeniable display of strength, power and trainability sealed the deal which has us all saying goodbye and good luck to this incredible stallion.
While it is sad to part with such a wonderful stallion everyone involved in his life thus far, and the Australian dressage industry, can feel a sense of pride in his sale. We see his return to Germany, the home of world-leading dressage horses and competitors, as proof that Australia is ready to be recognised as a major player in the international dressage scene.
Before his training with C&J Dierks a select few mares were bred to World Royal during his first and only season standing at Belcam. This year we are seeing the first of his progeny - the image of their father - and we can't wait to see more. Congratulations to the proud owners of these super foals.
2013 - Ulrich Klatte Training Full Time
Ulrich Klatte is officially back in the saddle and offering his equestrain training services to the public once again.
Ulrich specialises in the training and re-training of horses of any age, having the knowledge and experience to be able to search for problems that need fixing. After spending 50 years in the saddle he has rightly earned his reputation as one of the leading trainers in his disciplines.
For one-on-one training a maximum of 7 horses can be taken in at any given time to ensure that each horse recieves the time and attention needed to make solid progress. These 7 horses will be ridden and trained exclusively by Ulrich. Ulrich is also available for lessons, with the belief that "the combination of training the horse and the rider is the best way to achieve results."
Contact Ulrich directly for enquiries and availability of these services.
Great Start For 2011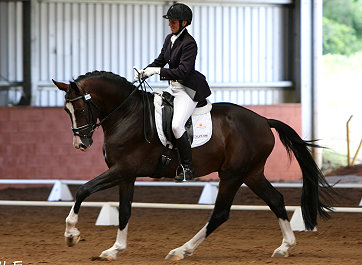 Despite all the extreme weather in Queensland we had a great start into 2011 with first winning the young horse Dressage in Toowoomba and than winning the Easter Bellis Trophy at D&JWTS in Werribee, and all that with a young jumping Stallion named 'Now on Top', who was not even 4 years old at the time of competition! Anthony Murray and Ulli Klatte bought him over the phone at the ESI Foal Auction in Lastrup - Germany which specialises in Auction for Jumping horses.
We always loved his athletic spunky type with great legs and feet, but our jaws dropped when we saw him free-jumping and cantering for the first time. Ulli's partner Sue Thomas did, as always, a fantastic job in breaking him in and Anthony had a great first ride on him and was so confident in him to put his one year old son Kai in front of him which got him into quite some trouble with his wife Elly.
We all knew than that he had a fantastic temperament and coolness about him which he than showed performing on both shows especially in the dressage test and presentations at Werribee. These are all extra bonuses which we didn't know when we bought him, but we knew that he was out of serial winning Grand Prix Show jumping line.
A very big credit has to be given to now Belcam residents Tor and Mel van den Berge who schooled and competed him on a standard even hard to find in Germany.
'Now on Top' is a very good addition to the Belcam bloodlines as he introduces the Stallions Voltaire and Nimmerdor to Belcam Stud as well as connecting / line breeding to the bloodlines of Cooperit(imp) and Hector(imp-exp) through the Stallions Contender and Calido on his mother line.
This all in addition to the other proven international Klatte Stallion Grannus and Argentinus which where first imported through Belcam into Australia and now can be found in a lot of Australias best Warmblood studs. The Argentinus son Belcam Agassi is the sire of the current Australia world cup league winner Advisor.
A full brother to Advisor, who is a yearling colt is currently for sale at Belcam.
With the Stallions Cooperit(imp), Now on Top(imp), World Royale(imp) and Belcam Agassi, Belcam can offer top class breeding lines to a great variety of mares through fresh or chilled semen. Riverside Kav the big typey gelding by Kaptain(imp) also impressed in Melbourne with becoming 4th in the 5 year old jumping class under Ulrich Klatte and 16th in Dressage with Tor van den Berge. Guest judge Greg Best (USA) commented on his big scope and rideability and predicts a great future for him.
Hector Sold
Our Grand Prix show jumping stallion Hector has been sold to New Caledonia. We wish Hector continued success with his new owner and rider.
Internet Auction
Our open day was a success with all youngsters showing themselves in great fashion. A BBQ lunch was enjoyed by all, with delicious German sausages and yummy bread from Bakers Club. Following lunch we had a display of dressage horses from beginning to Grand Prix. World Royale demonstrated what a true star he is destined to be, self carriage and balance of the highest quality with a very calm attitude to his first public display. James rode the enchanting Sir Stirling, who is a year older and beginning competition. The talented young rider Elliot Patterson gave a wonderful display of the medium/advanced horse on his elegant imported gelding Leandro. The day was finished with a magical freestyle ridden by Tor Van Den Berge on the impressive Fisherman Friend. A special thank you to Tor and Elliot. Congratulations to all the successful buyers who purchased horses through our first Internet Auction.
New Stallions For 2010 Season
Belcam is very excited to offer two new stallions in 2010 : World Royale and Now and Forever. With a choice for the dressage and show jumping connoisseur. Both young stallions have been imported from German and carry a mix of the today's most fashionable breeding and the most proven lines of all times. World Royale and Now and Forever can be viewed on the Stallion page.
DJWTS 2010
Success for Belcam Henry(Hector/Belcam Videl) highest scoring 6yo jumping stallion. Belcam Advisor(Agassi/Belcam Gratia) wins the Mini Prix ridden by Brook Dobbin. 6th and 7th places in the Mini Prix were both by Contango II, Caltango and Belcam Catalyst both ridden by Tim Clarke. Stud Manager James Miller riding Sir Stirling was 4th in the 4yo Materiale class.
Internet Auction
We invite you to join us at Belcam-Klatte Farm on Sunday the 7th of March 2010 for a presentation of weanlings to 2yo which will be available to bid on our internet auction beginning Monday the 8th of March 2010.
All young stock have been professionally handled and are ready to show in hand or let grow and develop. Take advantage of securing yourself unspoilt potential with a good foundation laid,to assure future success and enjoyment.
More info and pictures to follow mid February.
ACE Assessment Day
The ACE assessment will be held at Belcam on the 9th of January 2010. This is also an Open Day where youngstock will be offered for sale.
22/12/09 - With the breeding season well under way we have been very pleased with our 2009 foal crop. This year we have re-introduced the use of frozen semen back into the breeding program with stallions from Zuchthof Klatte and eagerly await next years arrivals.
Introducing Some of Our 2009 Foal Collection
Convida a Cooperit daughter out of Chantilly Pizzar has produced a world class filly by Hector imp/exp. This upstanding bay filly is a true testament to her ancestory, beautiful body type correct conformation and quality movements. The grandam Chantilly Pizzar is the mother of Eventing stars Belcam Ava, Australian representative with Stuart Tinney at World Equestrian Games and Belcam Caesar who's success with Kevin McNab has been monumental. With this fillies gene pool and her own qualities evident, she is destined for a big future.
Adessa (Agassi/Grannus II) - a full sister to Belcam Advisor - has come together with Hector and given us a modern filly with a powerful hindquarter. We are sure in years to come the Showjumping arena will be her playground.
Paurika (Parken/Falkrich) - this classy mare with an abundance of scope in her movement has had a very elegant chestnut filly with a look at me presence by Agassi. This filly will be blessed with double talents for dressage and jumping.
Grimace (Grannus 11/Classicxx) - our grand old dam has pleased us once again with a tall well developed colt by Agassi, his full siblings are very successful in showjumping and his 3 yo brother recently sold to Glenhaven Park.
WORLD ROYAL
World Royal has been a model student during the breaking in process - he shows calmness and a willingness to please. Already at this early stage he displays a very good natural balance and self carriage under saddle. At only 2½ yo he will now enjoy some time in the paddock to mature and grow.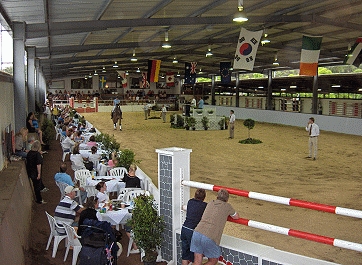 28/09/09 - Preparations are well and truly underway for the 2009 Belcam Sport Horse Auction. Sue has done a wonderful job putting the young stock undersaddle with the help of Carson,all the way from Montana. As always the young horses are calm and confident, now ready to be brought on for a successful career in sport.
Belcam is excited to introduce new manager James Miller. James is former manager of Goron Toron Stud and is joined at Belcam by partner Georgia Calvert. James and Georgia both share a passion and enthusiasm in breeding and producing competition horses.
Belcam welcomes "World Royal" a striking black son of World Of Dreams. World of Dreams is currently being campaigned by a young rider on her way to big time sport.
Charlott Maria Schürmann won the North German Youth Championships in Hamburg Klein-Flottbek with this stunning chestnut stallion. In previous years, this World Cup I son had won ribbons in the dressage ring up to Grand Prix Level.
Even though it was rather late at the age of eleven to start breeding, this dry but striking son from the legendary Hanoverian "W" line should be seen as a chance for modern dressage horse breeding. His first foals are just like their father: modern lines and plenty of movement.
Especially interesting is that by using World of Dreams breeders are given the chance to anchor the highly esteemed line of the Thoroughbred sire, Cardinal xx, in their dam line.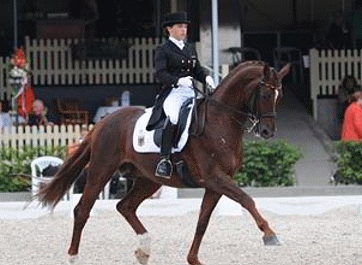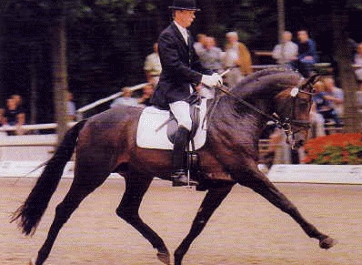 World Royal dam's sire Rubin Royal is a performer and has the power to enchant his audiences.
Wherever Rubin Royal makes an appearance he is always welcomed with a spontaneous applause.
At the licencing for young stallions in 1999 he was awarded the I d-premium. He awed the judges with his brilliant type, sensational movement and great jumping qualities. His first offspring have already won young horse classes which justifies his 12th place in the German wide Breeding Evaluation List for dressage horses.
In 2000 Rubin Royal completed his stallion performance testing in Adelheidsdorf finishing in fourth place in Leistungsklasse 1, with great critical acclaim from the press. In all aspects of the testing he confirmed his abilities and talents with high scores.
After the presentation of his first foals in 2001, Rubin Royal was undisputably awarded the 1 a-Main Premium Stallion in Oldenburg.
Rubin Royal, from Seiferts own breeding, is a great example of a multi-talented stallion. In 2001 Rubin Royal was introduced into the dressage competition sport and was quickly qualified for the Bundeschampionat for dressage horses.
Since then, in partnership with Dieter Weichert, he has won Prix St. George, Intermediare 1 and has qualified for the Nürnberger Burgpokal finals.
We eagerly anticipate World Royal will follow in his ancestors footsteps.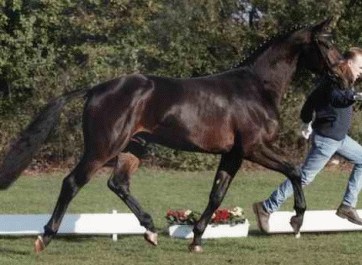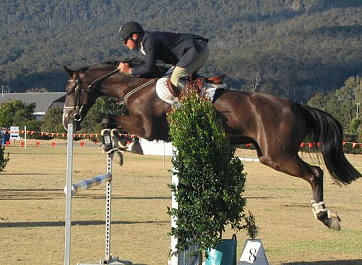 10/04/08 - We are unable to hold the Elysian Showjumping events which were planned for the last two weekends in July 2008. Unfortunately we were not able to raise sufficent funds to run this event to the same standard as in previous years. We will try our utmost to come up with some alternative events in SE QLD for the same two weekends - stay tuned.
07/04/08 - Belcam has decided to reduced their stallions from 4 to 2. If you are interested in purchasing either Belcam Agassi, Cooperit, Hector or Belcam Ceasar please contact Ulrich on 0408 453804 or at Belcam on 07 55430125.
06/04/08 - Andrew Lamb and Belcam Armarda have moved up through the ranks of showjumping and have now started the Grand Prix circuit in Victoria. Watch towards the end of the year for the duo's first World Cup start.
01/04/08 - Scone One Day Event in the CIC** star event - Kevin McNab and Belcam Ceasar win.
23/03/08 - Pamela takes Riverside Airport to his first competition for a 2nd in the Preliminary and a 1st in the Novice. More here.
21/03/08 - A second place on day 2 of the Sydney Royal for Lachlan and Hector.
20/03/08 - Lachlan and Hector have a great start to the Sydney Royal Showjumping with a win! More.
17/03/08 - A hot day for our showjumpers competing at Claredon on the weekend. However even with the 36 degree heat, Lachlan had a great day taking out the 1.30 feature event on Hector.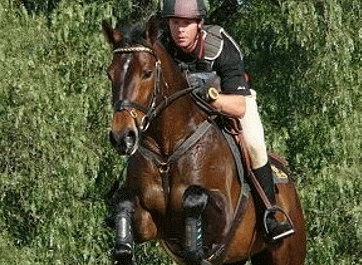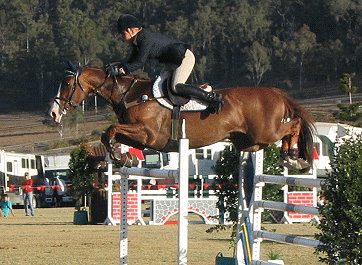 14/03/08 - The showjumping team has started their journey towards Sydney today. Lachlan will take OP Orthodox (Mal) and Hector to a showjumping event at Claredon as the lead up event to the Sydney Royal Show starting on the 20th March.
10/03/08 - Welcome to our new resident rider/groom - Stephanie Bryant ! We look forward to a great year ahead.
08/03/08 - Riverside Bart wins the D & C Grade Championships at Pittsworth Show. More.
06/03/08 - Congratulations to Emma Dougall on her recent purchase of Belcam Care. We wish them every success for the 2008 Eventing season.
24/02/08 - Belcam Ceasar and Kevin McNab take victory in the Sydney Weekend Eventing ODE CNC* and CNC**
26/01/08 - The showjumping year has begun for the horses at Belcam Stud. A successful day for Lachlan Manuel and Stallion, Hector also for Sponsored Rider, Anthony Murray and It's Jealousy and Riverside Bart. Read more.
01/12/07 - Congratulations to Pamela for winning the Pat Dale Memorial Trophy for 2007, awarded by Dressage QLD.
24/11/07 - ELYSIAN INTERNATIONAL SHOWJUMPING CLASSIC WINS "EVENT OF THE YEAR" Congratulations to the team and volunteers behind this event!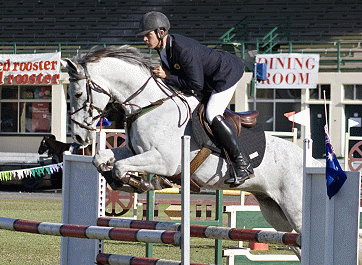 Today is : September 23, 2021
Page last updated : November 14, 2013
Top of

page
Copyright | Disclaimer | Privacy
Copyright © belcam.com.au 2009